CAGB: Most Brands Complete System 6-12 Nights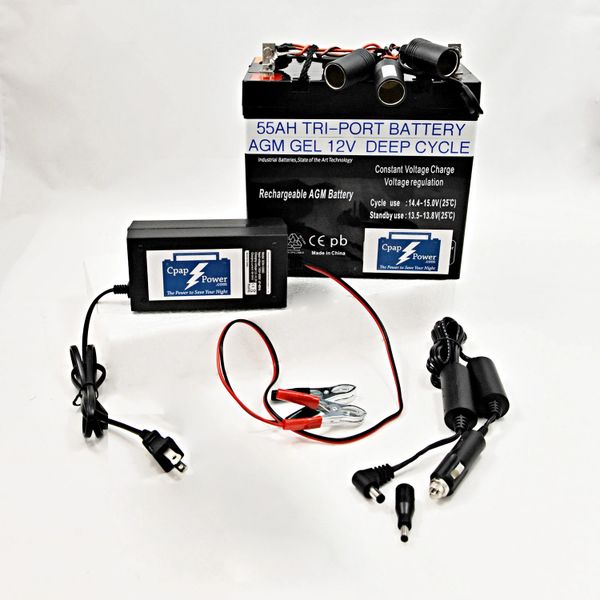 CAGB: Most Brands Complete System 6-12 Nights
PRICE INCLUDES FAST SHIPPING VIA USPS PRIORITY 1 - 3- DAY MAIL to all 50 USA States.
55AH Battery COMPLETE SYSTEM with EVERYTHING you need for 8 to 12 NIGHTS Power. (A "night" is defined as 7 hrs based on the National average of sleep in the USA.) .
This is the List of Cpap Brands and Models that this Battery & Power Cord Bundle will support with power.
(NO ResMed devices, we have other Battery Bundles for ResMed Products. Also we offer a different System for Philips DREAM STATION)
FITS VARIOUS RESPIRONICS, SANDMAN & INTELLIPAP CPAP & BIPAP MACHINES INCLUDING THE FOLLOWING:
COVIDIEN / PURITAN BENNETT:

 

Compatible with Puritan Bennett GoodKnight 425/425ST BIPAP machines.
SANDMAN:

 

Compatible with all Sandman Systems including Sandman Auto, Sandman Duo, Sandman Duo ST, Sandman Intro and Sandman Info.
DeVILBISS HEALTHCARE: Compatible with all IntelliPAP Systems including the IntelliPAP Standard, IntelliPAP Auto, IntelliPAP BiLevel, and the IntelliPAP BiLevel ST.
PHILIPS RESPIRONICS: M-SERIES, "50 series" PR SystemOne:

 

including PR SystemOne 150 REMstar, PR SystemOne 250 REMstar Plus, PR SystemOne 450 REMstar PRO, PR SystemOne 550 REMstar Auto, PR SystemOne 650 BiPAP PRO, PR SystemOne 750 BiPAP Auto                 
PHILIPS RESPIRONICS "60" SERIES CPAP & BIPAP MACHINES

 

INCLUDING THE FOLLOWING:
COMPATIBLE WITH ALL "60" SERIES

 

SystemOne CPAP & BIPAP MACHINES:

 

including REMstar Plus 260, REMstar Pro 460, REMstar Auto 560, BiPAP Pro 660, BiPAP Auto 760.
PR SystemOne REMSTAR SE
This system comes complete with everything you need including the Battery and the Combo Power Cord that attaches the battery to the Cpap Device.  The Power Cord comes with an Adapter Tip, so that between the Power Cord and Adapter Tip, these fit all of the brands listed above.
BATTERY COMES WITH THREE PORTS so that you can power 2 Cpaps (doesn't need to be the same brand or model) along with a USB Charger (included) to recharge your Cell phone, GPS, or Tablet while you are sleeping. This Battery weighs 35 Lbs and has a carrying handle.
Battery is Fully Charged. Sets up in under 5 minutes!  Ready to Go! 
30 DAY NO RISK Trial Period to return for Full Refund if not COMPLETELY SATISFIED.  FIVE YEAR WARRANTY (prorated) BEST in our Industryy!

QUESTIONS?  CALL US  800-290-3130  (10AM to 8PM  Pacific Coast Time, PLEASE)
Reviews