CJCA: CO-RES 7801 Battery Cord Only for Resmed S8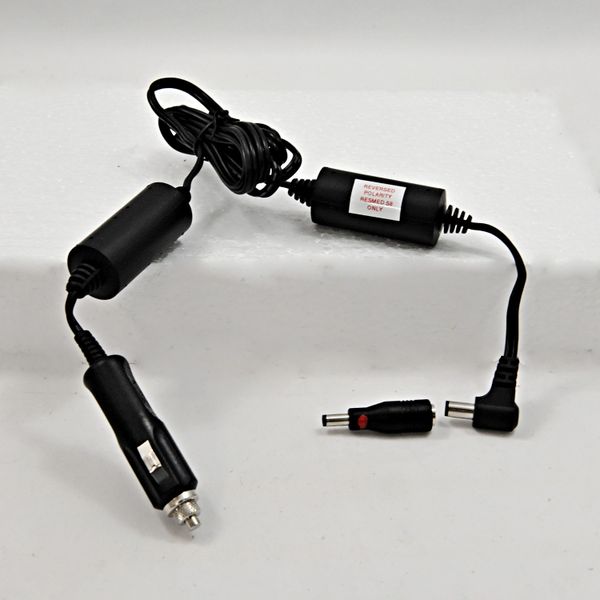 CJCA: CO-RES 7801 Battery Cord Only for Resmed S8
PRICE INCLUDES FAST SHIPPING

VIA USPS PRIORITY 1 - 3- DAY MAIL to all 50 USA States.
Battery Cord for ResMed S8 -
This cord is an OEM Cpap cord made by Philips Respironics with inline fuse and static filters, and adapted to replace the ResMed DC-12 Converter #33942 for the following ResMed Devices (it is not a cheap "after market" cord):
S8 ESCAPE, ESCAPE II
S8 AUTOSET, AUTOSET II
S8 ELITE, S8 ELITE II:
VPAP AUTO
The DC-12 Converter #33942 has been discontinued by the manufacturer. THIS POWER CORD WILL WORK WITH ONLY THE DEVICES LISTED ABOVE. THE S9 AND AIR 10 SERIES EACH TAKE THEIR OWN UNIQUE CORDS (which I offer as part of Battery Systems for those specific devices here on this website..)
CAUTION: The ResMed S8 operates with REVERSED POLARITY (positive ground) so be VERY CAREFUL with shopping for any "after market" cords that do not specifically state that they are POSITIVE GROUND like this power cord. Use of a negative ground power cord (like most other brands use) could fry your Cpap circuit board. (Read the CPAP FORUMS for the S8 and you will find many people who found out the hard way!)
The alligator clips Battery Cord is also available!  If you need a cord to connect to the terminals of your battery, PLEASE DO NOT select this item. Look through our other listings on this site to find an S8 cord with the Alligator Clip Cord as a bundle. It will save you money on the shipping to buy it as a bundle.

30 DAY NO RISK Trial Period to return for Full Refund if not COMPLETELY SATISFIED.  FIVE YEAR WARRANTY (prorated) BEST in our Industry!
QUESTIONS?  CALL US  800-290-3130  (10AM to 8PM  Pacific Coast Time, PLEASE)
Reviews