CAAD: Non-Interruptible Power Supply NPS / UPS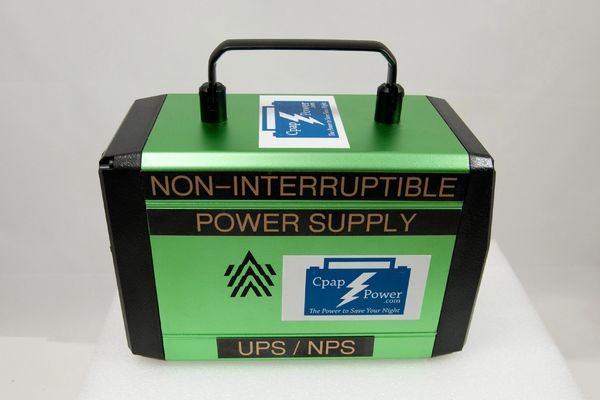 CAAD: Non-Interruptible Power Supply NPS / UPS
PRICE INCLUDES FAST SHIPPING via FedEx GROUND to Continental US .
This Non-Interruptible Power Supply will deliver 115V A/C power to EVERY Brand of Cpap / BiPap / VPap / APap used in the USA.
EVERY SINGLE ONE.  If your device plugs into the wall, it will run off this Battery Power Supply.
LIGHTWEIGHT and POWERFUL this Power Unit runs off an Advanced Lithium Ion 500 WH (WattHour) Battery and a PURE SINE WAVE Inverter.  (Advanced Electrical Devices, such as a medical device, often require PURE SINE WAVE Power instead of the much cheaper inverter units that produce a Modified Sine Wave. (Use of modified sine wave could damage your device and void your warranty. Check with your Pap technical support if you have questions.)
MOST POWERFUL Lithium Ion battery available in its size range. Compare with other brands specs:  This NPS-500 unit has 500 WH (watt hours).  It is rated for 135135 mAh (at 3.7V) which translates into 41 AH at 12VDC. It can be used for OFF-GRID power for up to 6 to 8 Nights power (with "comfort features" turned off), running your Cpap (7 hrs per night.)

Battery weighs just under 9 Lbs and is 9" L x 4" W x 8" Tall (including handle). 

 

USED AS A NON-INTERRUPTIBLE POWER SUPPLY, this battery unit can be plugged into the wall at home and you plug your Pap Device into it to use daily. The power flows directly through it silently.  If the power goes out while you are asleep the battery will take over and seamlessly keep your Pap Device working until morning when you wake to discover that the power is out at your home.  THIS POWER SUPPLY HAS ENOUGH CAPACITY TO KEEP YOUR PAP DEVICE OPERATING THROUGH THE NIGHT, EVEN WITH BOTH YOUR HUMIDIFIER HEAT AND YOUR HEATED TUBING ("comfort features"), BOTH TURNED ON. (UP TO APPROX 7 HOURS.)  It will start gently "chirping" at you when you have used up 90% of the battery reserves.
Battery has (4) USB ports to charge either your Cell Phone or Tablet or GPS while you are sleeping.
There are (2) Battery RE-Charging cords provided to recharge your battery for repeat use:  from either 115VAC or 12VDC (vehicle) source. 

Battery arrives Fully Charged. Sets up in under 5 minutes! Ready to Go!
Cpap Power Warranty for this Battery System is TWO YEARS (prorated, with a FULL REPLACEMENT for the first 12 months.) BEST Warranty in our Industry!
THIS BATTERY IS NOT CERTIFIED TO TAKE ON ANY COMMERCIAL AIRPLANE.   

Reviews