CADK: Battery for All Brands 5-8 Nights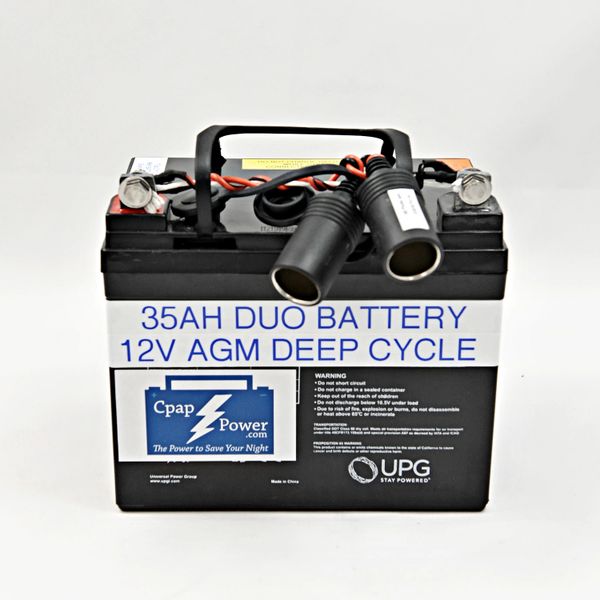 CADK: Battery for All Brands 5-8 Nights
PRICE INCLUDES FAST SHIPPING VIA USPS PRIORITY 1 - 3- DAY MAIL to all 50 USA States.
35 AH AGM Battery and harness provides 5-8 nights of peace and security.  Perfect to enjoy the great outdoors on a camping trip or to keep you safe during a power outage. 

You will need to provide your own Cpap Power Cord to connect this battery to your Cpap Device. You will also need to provide a Battery Charger to recharge this at 6Amps/hr rate or LESS (higher rates cook this GEL battery)

BATTERY COMES WITH TWO PORTS so that you can power 2 Cpaps (does not need to be the same brand or model) or use a USB Charger (included) to recharge your Cell phone, GPS, or Tablet while you are sleeping. This Battery weighs 23 Lbs. and has a carry handle.
Battery is Fully Charged. Sets up in under 5 minutes! Ready to Go!
30 DAY NO RISK Trial Period to return for Full Refund if not COMPLETELY SATISFIED.  FIVE YEAR WARRANTY (prorated) BEST in our Industry!
QUESTIONS?  CALL US  800-290-3130  (10AM to 8PM  Pacific Coast Time, PLEASE)
Reviews