CADH: Battery and Charger 4-8 Nights (Cpap Cord Not Included)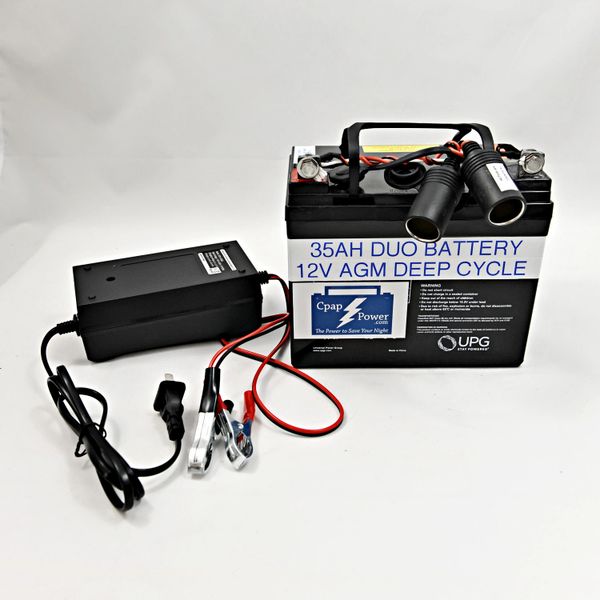 CADH: Battery and Charger 4-8 Nights (Cpap Cord Not Included)
PRICE INCLUDES FAST SHIPPING VIA USPS PRIORITY 1 - 3- DAY MAIL to all 50 USA States.
This unit is a 35 AH Battery to power your Cpap for 5 -- 8 Nights. (A "night" is defined as 7 hrs based on the National average of sleep in the USA.)  THIS BUNDLE IS DESIGNED FOR THOSE CUSTOMERS WHO CHOOSE TO SUPPLY YOUR OWN CPAP/BIPAP   12VDC Power Cord that plugs into a standard 12V "Cigarette Lighter" Socket to make this work.

This system comes with the Battery with Custom Plug-in Harness and the S.M.A.R.T Computerized, Fully Automatic  6 Amp/hr charger that is designed to recharge the battery at the Fastest rate possible without damaging the AGM battery.
BATTERY COMES WITH TWO PORTS so that you can power 2 Cpaps (does not need to be the same brand or model) or use a USB Charger (included) to recharge your Cell phone, GPS, or Tablet while you are sleeping. This Battery weighs 23 Lbs. and has a carry handle.

Battery is Fully Charged. Sets up in under 5 minutes! Ready to Go!
30 DAY NO RISK Trial Period to return for Full Refund if not COMPLETELY SATISFIED.  FIVE YEAR WARRANTY (prorated) BEST in our Industry!

QUESTIONS?  CALL US  800-290-3130  (10AM to 8PM  Pacific Coast Time, PLEASE)
Reviews